"Choose a leader who will invest in building bridges, not walls."
- Suzy Kassem, from the book "Rise Up and Salute The Sun" (2010)
Elections around the world usually shape up to be a good time for the country involved to showcase to the world just how far it has come, from a socio-political perspective. The nation's political leaders would usually be eager to flaunt its ideological progress (which, of course, is largely determined by world views), be sugarily welcoming to foreign entities, and make provisions in anticipation of international observers, doing everything possible to make a decent diplomatic impression.
Well, unless you are the Governor of a volatile state, have been an enigmatic federal minister in three administrations prior, and are (in)famous for making inflammatory statements in public.
Nasir El Rufai clearly does not want visitors trying to make any observations or carry out investigations during the 2019 General Elections, and on Tuesday 6th February 2019, he expressed this sentiment in the strongest words possible in the middle of a media chat with veteran broadcaster Cyril Stober on the weekly NTA programme Tuesday Live.
"Those that are calling for anyone to come and intervene in Nigeria, we are waiting for the person that would come and intervene, they would go back in body bags".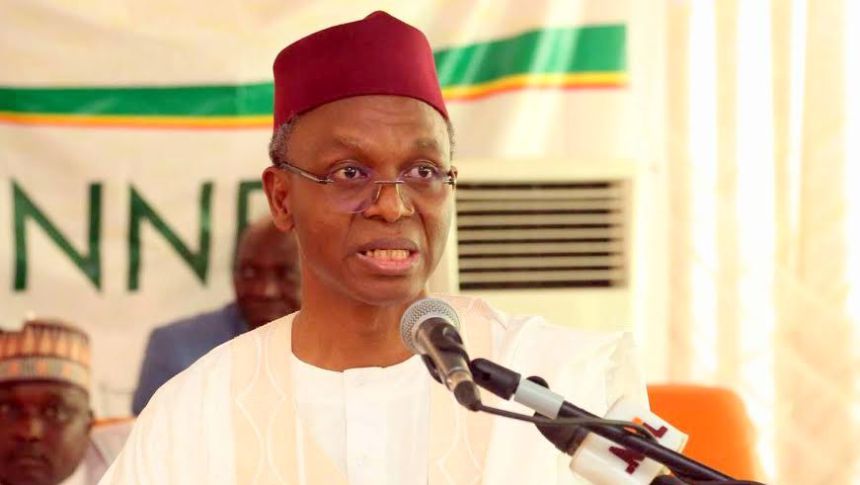 Photo Credit: Premium Times
A body bag, usually made of rubber or vinyl, is not exactly a favoured means of transportation for humans, and it's definitely not recommended for the living (no one wants to be moved around in a plastic object enclosed by a large zipper). It depicts horror (as depicted in the 1993 movie of the same name), it depicts transition, it depicts death. It's an item that usually comes into play in situations of war and/or gang violence, and the alphabets thereof shouldn't ordinarily make it into diplomatic language, but here we are.
This inherently morbid and menacing utterance comes on a back of a recent statement from the presidency which all but threatened military action in the event of any "foreign interference", which was in itself a response to the expression of displeasure by the U.S. and the U.K with respect to the unconstitutional suspension of Chief Justice Walter Onnoghen. It is difficult to interpret the words of Garba Shehu, which ran along the lines of "readiness by security forces to confront any plan or attempt to interfere with or disrupt the process whether by elements within or from outside the country" to mean anything other than an intention to take up arms upon perception of any external diplomatic input.
For a country to resort to or even contemplate military action against another, there has to be reasonable apprehension of an infringement to territorial sovereignty. From the prevailing circumstances, there is nothing to suggest that any of the western powers have remotely hinted at imposing their might on Nigeria. There have been no missiles, no air strikes, no direct incidents of satellites getting hacked, nor have there been any press releases suggesting the need for Nigerians to be expectantly afraid of any form of attack. It is puzzling, then, to see ambassadors and spokespersons of the nation's ruling party adopt such an ultra-defensive stance in their public correspondences, particularly in the absence of any provocation.
Beyond that, it makes for an alarming reality to see the casual nature in which threats are publicly issued on public conventional media. It reeks of an impunity that stretches to dangerous dimensions, it reflects the toxic nature of the country's political climate, and it is indicative of the attitude exhibited by majority of the present leadership to whatever is perceived as manifestly uncomfortable to the state of affairs. If the people we "voted" into power and "entrusted" to cater to our interests can be this brazen about their intention(s) to go as far as bundling people away in objects that convey death, then there's reason for everyone to be worried.
It's no secret that the European Union has, via its emissaries, monitored general elections in Nigeria since democracy was re-embraced in 1999. As recently as 2015, we had foreign personnel show up to observe proceedings, and this was welcomed by stalwarts of the All Progressives Congress (APC), the opposition party at the time. Why is there a change in tone four years after? Why so jittery now? These hostile remarks are pointers to a state of panic, akin to a secondary school whose teachers are reluctant to have WAEC officials come around to monitor external examinations for fear that malpractices would be uncovered. If you keep arguing vehemently against being watched, then there is a chance that you are doing (or about to do) something wrong.
There would probably be no grave diplomatic consequences for this, and there would (obviously) be attempts by El-Rufai to carry out damage control, but this just confirms what we already know: he hates dissenting opinion, and he deals with it drastically, ask Audu Maikori, ask the Shiites, ask the people of Southern Kaduna. We shouldn't be used to this, and the international community shouldn't regard us as un-neighbourly, but this is where we are.