Nigeria's two main political parties have condemned a last-minute decision by the country's electoral authority to delay presidential and national assembly elections by one week. Polls were due to open at 8 a.m. on Saturday, February 16.
The elections will now take place on Saturday, February 23, authorities said, citing logistical issues.
"Following a careful review of the implementation of the logistics and operational plan, and the determination to conduct free, fair and credible elections, the commission came to the conclusion that proceeding with the election as scheduled is no longer feasible," the chairman of Nigeria's Independent National Electoral Commission (INEC), Mahmood Yakubu, said early Saturday. "This was a difficult decision for the commission to take, but necessary for the successful delivery of elections and the consolidation of our democracy."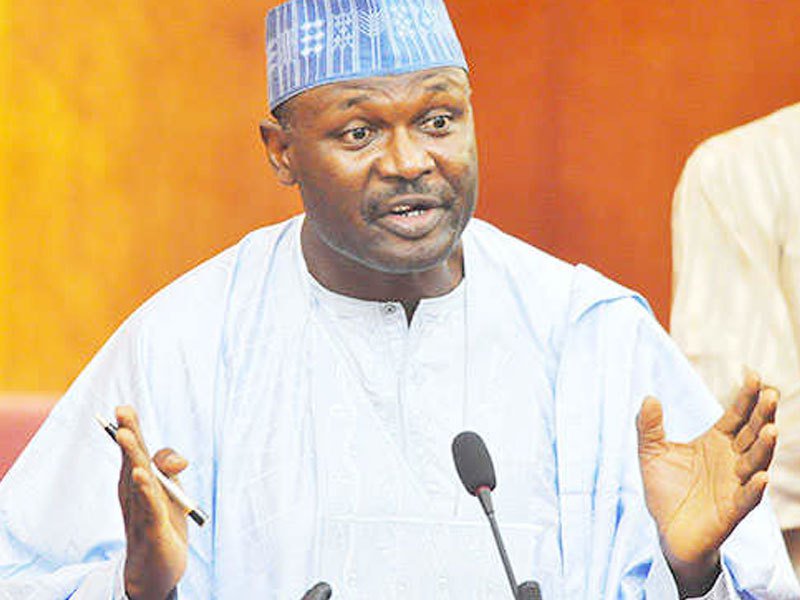 Photo Credit: Daily Post
Elections for governorships, state House of Assembly and area councils are on hold until March 9, INEC said.The announcement was made only five hours before the polls were supposed to open. Many Nigerians had travelled long distances back to their home city or state in order to vote, only to find that the election was postponed. Some may not be able to repeat the journey next weekend. The delay is likely to ratchet up tensions in what is a crucial vote in Africa's most populous nation. Normal life had been put on hold for the election, with borders closed and drivers urged not to take their cars on the roads.
Addressing another news conference later Saturday, Yakubu insisted that the delay had "nothing to do with security, nothing to do with political influence, nothing to do with the availability of resource." He pointed to challenges including the burning down of three regional electoral commission offices housing voting materials and bad weather that prevented ballot papers from being flown into some remote areas as being behind the decision.
Incumbent President Muhammadu Buhari, 76, said he was "deeply disappointed" by the electoral authorities' decision to delay the vote, following their "assurances day after day and almost hour after hour that they are in complete readiness for the elections." Buhari is running against 71 other presidential candidates, but his main challenger is Atiku Abubakar, a 72-year-old business tycoon and former vice president.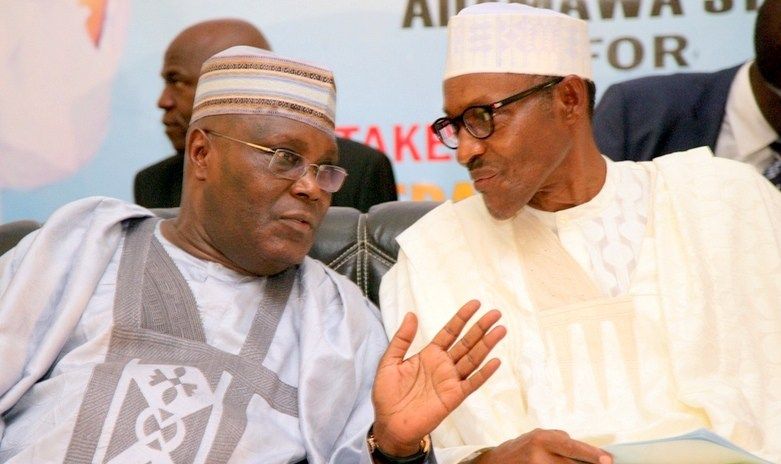 Photo Credit: Premium Times
Parties React
The main opposition party, the People's Democratic Party (PDP) and the ruling All Progressives Congress (APC) accused each other of using the delay to their advantage.
"We condemn the postponement of the elections, but urge our teeming supporters to be patient and determined," a statement released on Saturday by Buhari's Presidential Campaign Council read. It said Buhari had fully cooperated with INEC and that the council hoped the commission would "remain neutral and impartial in this process" and not collude with the PDP. The statement alleged that the PDP was "never ready for this election," and accused the party of using the postponement to "orchestrate more devious strategies to try and halt President Buhari's momentum."
In his statement on Saturday, Buhari called for INEC "to ensure not only that materials already distributed are safe and do not get into wrong hands, but that everything is done to avoid the lapses that resulted in this unfortunate postponement, and ensure a free and fair election on the rescheduled dates."
Opposition candidate, Atiku Abubakar of the PDP, said in a statement on Friday that Buhari's administration has had "more than enough time and money to prepare for these elections" and accused his opponent of delaying the vote in "hopes to disenfranchise the Nigerian electorate in order to ensure that turnout is low" on the new polling date. Abubakar urged voters to come out in even greater numbers on February 23, adding that the APC were "desperate and will do anything in their power to avoid" being rejected by the Nigerian people.
"You can postpone an election, but you cannot postpone destiny," he said.
Both parties called for calm amid fears that voters' frustrations could boil over into increased tensions.
INEC will likely face questions over the last-minute nature of its decision and the nature of the logistical difficulties involved.
Violence in build-up to elections
The lead-up to the elections has been marked by violence, prompting warnings from the British and US governments that they would deny visas to and likely prosecute anyone found inciting violence during the vote. A terror group with links to ISIS claimed responsibility for a deadly attack last Tuesday on a motorcade carrying the governor of Borno state. The Islamic State's West Africa Province terror group, a breakaway faction of Boko Haram, has staged a number of high-profile attacks in recent months. Buhari has been criticised for failing to deliver on his campaign promises to end the years-long Islamist insurgency that has left thousands displaced in the northeastern region.
The 2015 presidential election was delayed by several weeks over security concerns. The country's 2011 election was also postponed. This latest development comes at a critical time for the country's economy. The recent oil price crash sent the country's economy into turmoil when the price of a barrel plunged to $40 at its lowest from a high of $100, leaving the country's major revenue source depleted. An estimated 87 million Nigerians now live in extreme poverty, the highest number in any country in the world, according to The Brookings Institution.